Anime Banzai 2007: The Great Return (Page 2)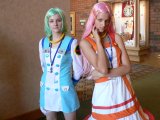 The Summer of Love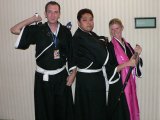 We're Hunting Hollows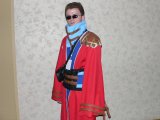 I Need a Refill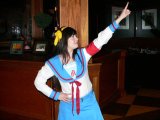 She Doesn't Seem to be Melancholy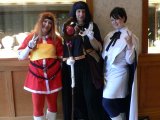 That Lina Inverse Slays Me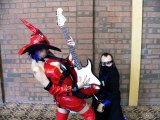 Some Guilty Looking Gear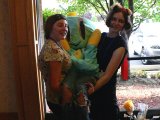 Chao Adventure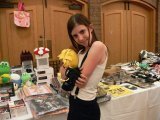 Tifa Loves Cloud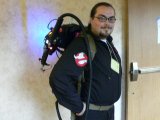 Those Ghostbusters are Mavericks!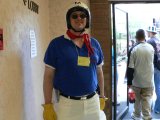 I Feel the Need for Speed
Dealing with the Dealers' Room
Taking a glance at my schedule I note that the Dealers' Room closes each day at 7:00 P.M. An odd choice, I think, given that the Dealers' Room is where many of the sponsors of Anime Banzai make back the money they spend on the convention.
Before entering the Dealers' Room, I am glad to finally be able to check-in at the hotel's front desk and get into my room. The Sheraton City Centre Hotel where Anime Banzai is hosted this year is an expensive hotel with few amenities in each room, and those that are available usually come at an additional price. The rooms themselves are nice enough though. I free myself of my recording equipment and bring in my bags from my hot car, glad to be able to stop worrying about them at last.
As a Guest-of-Honor, I have a table reserved for me in the Dealers' Room. I decide that this is not a thing to waste, and enter the room to take a look. There are many tables there, but nary an anime or manga production company in sight. However there are several retailers, many more than last time. This is quite a good thing, because a lot of those dealers that attended last year had exorbitant prices. Several of those dealers are back this year, doing things like charging $9 USD for a simple keychain, but the new dealers and some of the old ones are underselling these ridiculous prices. I skip past the dealers which want too much for too little, and I skim over the contents of the other tables, noting which things I will come back for at a later point.
For now I want to get my table set to start selling. I produced 200 anime bookmarks in advance for the event. These are from series such as "Fruits Basket", "Bleach", and "Inuyasha". I also bring along several coolers full of ice and water bottles. After all, every con goer needs to stay hydrated, and at one dollar apiece, I have the lowest price for bottled water at the hotel.
The only problem is that I can't locate the table designated for Nz17 Productions/ASO Radio. I ask the Security Ninja at the door about this situation, and he tells me to ask at ConOps. I head around the corner and down the hallway to finally reach the room. Asking the same man who was behind the desk earlier, he tells me to wait while he contacts the girl in charge of the Dealers' Room. Eventually she shows, and she is much younger than I anticipate. She has me follow her back to the Dealers' Room, where she goes from table to table, glancing at her chart of where dealers should be. Eventually she discovers where I should be, but someone else is already there. Those there claim that they were told to situate at that table by someone else in charge of the convention even though their table was to have been on the other side of their neighbor. We three come to the agreement that I will take the unoccupied table that they were originally designated to use.
Then I bring my car around to the nearest doors, unload the ice coolers, then bring in the boxes of bottles. I realize I forgot some things back in my hotel room, and have to walk around the floor to get back there. Setting up, I realize I forgot another thing or two back in the room, but I am not about to take another trip there to get them.
After setting up everything, I wait for my first customers. I don't have to wait long before I make my first sale. Feeling a sense of pride, I stash away the money. But soon enough a noticeable pattern emerges: though I am selling bottles of cold water at a respectable rate, not a single bookmark is sold. I begin yelling out like a farmer or a fisherman at market, trying to get people's attention and dollars. But aside from a few quizzical looks, I don't get anything new.
The Return of T-Man777
Standing there flummoxed by my bookmarks not selling, I have a person approach me in a strange manner. He seems to find me familiar, but at first I don't recognize him. Then it dawns on me -- it is T-Man777, the long-absent co-host of ASO Radio! I have not seen him in years, and his hair is cut short, different than I remember. He has on a funny Pac-Man t-shirt which had also confused me at first because it is somewhat unlike what he used to wear. He is groggy and tired from the events of the last few days and is slow to get his energy.
At first there is a feeling of awkwardness, of two friends who have not seen each other in such a long time trying to remember exactly what each other is like and how this plays off his own personality. But soon that strange feeling subsides and we begin to pick things up like we had never missed a day. We laugh and have fun, telling each other of our convention experiences thus far.
When T-Man arrived at the con he didn't know where to reach me, but reasoned that he would find me in the Dealers' Room. However he does not expect to find me as a dealer! He agrees to help with my table in the room, and after two hours the room closes. Though I do not sell any bookmarks in that time and only a few water bottles, I have a fantastic time talking with T-Man, laughing and joking. We clear out of the Dealers' Room, leaving the coolers but taking the rest with us. More adventure awaits outside the Dealers' Room for the two friends, now reunited at Anime Banzai.
Late Friday Night Meets Saturday Morning
We go to the Smoke House, which has now almost become our theme for the convention. We are there to see the "Bootlegs and Bargains" panel. We show up nearly halfway through the course of events, and by this time the host is finishing talking about how to spot bootlegged DVDs and merchandise from the authentic. He then turns to finding good deals on Japanese animation and opens the discussion to the audience. T-Man and I contribute our own thoughts on the subject, from renting to fan-subs to buying used videos. After a few minutes we realize that the panel has gone beyond its prime, and we take our leave.
Looking at the schedule, we realize that we have an hour free. We take this time to travel to the nearby Denny's restaurant that is across the street. Eating there at this time is great fun because there are so many other fans and cosplayers who are also having dinner. Having a meal among your peers can be greatly satisfying, and this is no exception.
Coming back from the restaurant, there are only a few panels left in the first day of Anime Banzai. T-Man wants to go to the "Japanese Honor Stories" panel. We leave after only a few minutes once we discover that is was merely a girl reading scary stories from a computer screen. The showing of the anime "Please Save My Earth" is more to our liking, and we sit to enjoy the show. We stay a bit longer to take in some of the "Anime Shorts Program" which features short Japanese animation sequences from advertisements and music videos. While some of it is interesting, I leave after a short time to be joined by T-Man minutes later as I am talking with an older person sitting in the lounge outside the AMV Dance. He says he left the panel after it became obvious that the rest of the anime shorts were a bit too weird and confusing.
Not content with leaving the rest of the night unused, we decide to spend some time checking out our Dealers' Room purchases. I have assembled a small collection of patches, pins, and keychains and a DVD box set of "Brain Powered", and T-Man has at his disposal the first DVD release of "Kekkaider". We head to my room to watch the anime, but end up spending the night talking and watching dozens of anime music videos. T-Man had wanted to attend some early morning panels on Saturday before leaving to Wyoming, but when he leaves my hotel room the time is 4:00 A.M. He decides it would be best to get some sleep and skip the panels instead.