Anime Banzai 2007: The Great Return (Page 3)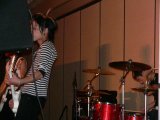 Artbeat Rocks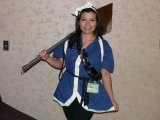 Ukyo Serves It Up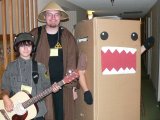 Punk Rock with Domo-kun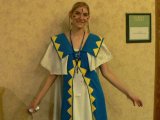 Goddess Helpline, Beldandy Speaking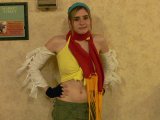 Ravishing Rikku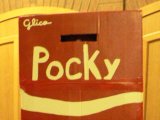 People-Flavored Pocky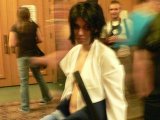 Ready to Kill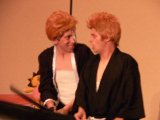 Shocked to See Me?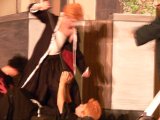 No Roughhousing!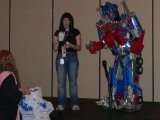 Optimus Prime Dominates
Waking to the Morning that has Already Gone
Hotel rooms are deceptive things. They change our perception of reality. And in my case, when I awake mine makes 12:00 P.M. seem like 8:00 A.M. Once I discover the real time, I go into rush mode, desperately trying to get ready for my 1:00 P.M. panel on Rumiko Takahashi. Dashing to the Smoke House yet again, I discover it is locked, and the dozens of awaiting attendees lining the hallway. I rush over to ConOps to make the Security Ninja aware of the situation and to attempt to open the room. But everyone is overworked and disheveled, so it is not until several minutes are the scheduled start that we can begin. The room is quite full, a stark contrast to the previous day's panel that I hosted. Several people leave once they find that the panel is a history and discussion about Rumiko Takahashi, and not an appearance by her. The convention's listings appear to have confused many people into thinking that Rumiko Takahashi is to be here, and many signs are altered to say, "She's not here," or "It's a discussion, not an appearance."
Finally starting, I begin with a brief overview of Rumiko Takahashi's life including the fact that this year will be her fiftieth birthday. We then move onto her various popular serial works and some of her short, lesser known pieces. Halfway through the time I open things into group discussions, having each person tell about their first and favorite Rumiko Takahashi works. We have several interesting people in our group, including a married couple who tired of the slow release of Spanish-language editions of "Ranma 1/2" and imported the entire show in the form of English DVD box sets instead. Another woman reveals that she is an employee of the Salt Lake County Library group and is responsible for the acquisition of anime and manga for all of Salt Lake county's libraries, and that she is here to scout what is and will be popular in the world of anime and manga. I have the room give her a well-deserved round of applause. Our Rumiko Takahashi panel proves to be so popular that we decide to go for another hour since no other panel is scheduled to use the room. I have such a good time that I find myself wishing that we did not have to leave. However there is much left to cover so our group of Takahashi fans disband for other destinations.
I take this opportunity to get some food. An otaku can not run on an empty stomach. Referencing my schedule once again, I decide that though I did some respectable sales of my bottled water in the previous day, the expense of attending Anime Banzai is too much to waste any more time operating a table in the Dealers' Room. I briefly view some anime music videos from outside the screenings in the Main Room before setting up station in the southern hallway to take pictures of cosplayers. The next hour sees lots of people traveling through this hallway to avoid the crowds in the northern hallway where the panels are. This proves an excellent time to take pictures, and I get many scores of photos. I take another break for food, and then I am back to take more cosplayers' photographs.
A Night of Delight
It is six o'clock now and I decide to break for some events. The "Old School Video Games" panel is overflowing the room, so I skip past there. The Censorship panel also look intriguing, but is standing room only as well.
I leave for the Dealers' Room, having decided to look for some good closing hour deals. I pick up several manga volumes, including a few for three dollars. The vendor I buy them from has discounted their price twice now because they were not selling. However they are from one of my favorite series, "The Slayers", and so I know that they are good, and a good deal to boot. I also get some volumes of "Ranma 1/2" and "Bleach".
The Main Room is supposed to now host the Cosplay Contest, but is instead hosting an encore performance of Artbeat, a local Japanese-American rock music group. I then return to the Dealers' Room to take my coolers out to my car and clear off the table we had used.
I visit the Granary to sit in on "How to Survive a Zombie Attack", a panel based on the cult-classic book of the same title. It is a funny discussion, made all the better by the girl in the front row wearing demon wings who keeps jumping at the descriptions given by our host.
Eventually the Artbeat concert ends and the Cosplay Contest begins. The zombie panel lasted longer than expected so I miss the beginning of the contest. However if what I do see is an indicator, the Cosplay Contest was fabulous from beginning to end. I catch an excellent performance by the Ichidan performing group, and all of the costume awards winners definitely deserve their prizes. The room is hot and full of energy, but like all good things must come to an end.
I hold a little after-con party outside the Main Room, where I am joined by others who haven't had quite enough. Some people come and go, and eventually the party members split for other locations. I decide to call it a night. As I leave, I walk back to my room reflecting upon how far Anime Banzai has come.
Pros:
Family-friendly
All panel rooms are centrally located
Artist Alley has good exposure
Schedules Artbeat concert twice to meet demand
Several nearby restaurants
Cons:
Only one video screening room
Lasts for two days, not three
Few things targeted to older fans
Cosplay Contest rushed due to poor time scheduling
No green room for Guests-of-Honor this year
Final Grade (out of 100): 89
See all of our pics from Anime Banzai 2007 in our Artist Alley.