Print-View
Nz17 Productions (Sunday, 25 February 2018 18:19:31 +0000)
http://www.nz17.com/forum/
Width too high for your page to be printed? You be able to limit the maximum width to
500 pixes
, which is enough for older browsers. You can enter also enter another value in the URL or
delete the limitation
.
---
http://www.nz17.com/forum/board_topic.php?tid=524
nz17 (Tuesday, 07 July 2009 06:07:17 +0000) to topic Forum Software Updated
It was a pain in the neck, there were lots of hiccups along the way, and it took longer than expected causing the forum to be unavailable for about a day. But,
but!
, I have upgraded the forum software from version 2.0.5 to 2.1.5. I figured since the old software version was out-of-date by two years, eleven months, and nine days, and I hadn't upgraded our forum in three years and five months, it might just be time to do an upgrade. :laugh:
So what has changed? There's been lots of bug fixes, which are good, security improvements of course, and broken features now work as expected. Expect to see the re-implementation of our Marine-inspired ranking system for our post counts, especially if you nag me about it. ;)
The code is a lot cleaner, and the CSS stylesheet is now kept in a file separate from the pages, thus making the download times and sizes of pages smaller, resulting in a faster feel. Compression and a new caching feature also speed up page requests. Zoom zoom!
The users' computers' default language setting is automatically detected to display the forum interface in their language of choice (either English or German). Buttons now have icons on them, making them more visually pleasing and easier to identify.
One of my favorite new features (and one that was badly needed) is the ability to read Private Messages that you have sent in addition to the ones you have kept. So instead of just seeing what you've received, you can also read what you've sent!
Attached images are now actually visible on their attachment page when you click on them - no need to download them separately before viewing. Fancy that! But also, thumbnail image previews now show up for any images you upload to our forum in their actual thread, and it is much more obvious when there is an attachment to your posting since it shows up right in the middle above the text. Remember, forum members can upload up to five files per post (1MB limit per file), so upload your cool stuff!
Integrated Open Search: Notice that your Firefox/IE search box has turned blue? That's because you can now add our forum as a search option! Just click the down arrow on the left of your search box and add Nz17 Productions Forum search to your Web browser!
Last but not least, I discovered a hidden setting in the forum database that allows us to display images inline instead of just showing links. So instead of seeing this -
http://www.nz17.com/forum/template/subProductions/gfx/logo_nzBB-3.png

- you now see this: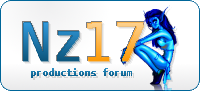 Right now the inline image feature is only enabled for the Staff of Nz17 Productions. If you would like the feature for your account, please send a Private Message to me, Nz17.
So those are some of the highlights of the update in a nutshell. If you notice any bugs, errors, or unexpected behavior, let me know and I'll try to fix it right away.
Oh, and let me know what you think of our "new digs." :thumbs:
link1986 (Tuesday, 07 July 2009 21:41:06 +0000) to topic Re: Forum Software Updated
Wow, I noticed the new update almost immediately (After staring for several hours), and I must say that it looks fresher then before.
It seem though it's more of a backstage update. :laugh:
nz17 (Tuesday, 07 July 2009 22:10:48 +0000) to topic Re: Forum Software Updated
Oh yeah, I almost forgot a few things:
I went and changed the name of the guest account for unregistered viewers from Gast to Guest. I figured that while it gave our forum some German charm, most people who visit only know English and wouldn't know their Gast from their elbow. ;)
I moved the Nz17 Productions Web site links (the gray bar) from the upper part of the page to the top of the page, to match the rest of our sites. Now it looks the same no matter where you see it!
For Private Messages, I doubled the number of messages per box (from 64 to 128) and doubled the number of storage boxes per account (from 4 to 8), which means the new total for messages is quadrupled from 256 to 1024 per user.
If you were wondering what was involved in the upgrade, well, it didn't go smoothly. First the upgrade didn't go, and I had to reassign file permissions. Additionally, the message board software now uses password salting to make our forums even more secure, and so I had to go and manually edit the text configuration file for the forum software. Then, it didn't like the more secure setup I was using, so I had to undo that. This saw most of the error messages go away. I also had to hunt for where the forum was hiding the style information for our Nz17 Productions "subProduction" theme that the forum uses, and that took at least an hour or two. I was looking for it because it needed to be updated for the new 2.1.5 version of the forum's software. Well, besides that the new software now uses a different database format, so the old database was upgraded by the software. This (mainly) went well, but the forums went missing! Well, they weren't really missing from the database, but they weren't showing up on the forum's pages. So I had to manually go into the database (several times!) and the admin configuration panel over and over to try to manipulate the data
just so
so that the software would recognize our forum layout with Nz17 Productions above with all the other sub-forums below. That took a lot of doing, and didn't take until the second day. But after much gentle and careful work, it did...
There's actually even more involved with what I had to do, but I will spare all the other details, especially where I had to retry things to get them to go. :laugh: Just know it was serious effort, and that I think it paid off in the end. :)
warpshadow (Wednesday, 08 July 2009 00:05:09 +0000) to topic Re: Forum Software Updated
Looks pretty good. Especially since we are no longer gasts.
warpshadow (Wednesday, 08 July 2009 10:20:13 +0000) to topic Re: Forum Software Updated
Especially now that I am a Halbw?chsiger. I never had a title like that one.
nz17 (Wednesday, 08 July 2009 18:06:20 +0000) to topic Re: Forum Software Updated
:laugh: Maybe instead of Marine ranks I should keep the German ones or maybe go with some cool mythical things?
link1986 (Thursday, 09 July 2009 18:31:39 +0000) to topic Re: Forum Software Updated
Unless you already changed it, where the heck are those German rankings? I don't see them anywheres.
nz17 (Thursday, 09 July 2009 21:31:59 +0000) to topic Re: Forum Software Updated
I done did done changed them, I did. :beaten: But if you still want to see them, change your browser language settings to prefer German, and they will show up for you.
nz17 (Saturday, 12 December 2009 21:00:25 +0000) to topic Re: Forum Software Updated
More good news, everyone: the final piece of the forum upgrade puzzle has been solved. For the last six months, guests of our forum have been unable to view the pages or posts of the forum. This was a bug in version 2.1.5 of Talkboard Forum. I contacted the software's author about this a few months ago and he said to send him a copy of the forum's database from both before and after the upgrade so he could diagnose the situation. I told him my laptop computer was stored away but that I would send the backups when I got the computer out and when I remembered to write to him with the databases' info.

Well after my desktop computer died (long story) I have to rely on my laptop computer again to get on the Internet. Seizing the opportunity I wrote back to the author and attached the backups of the forum.

Well today he wrote back to me and confirmed I had a found a bug that his testing had missed. He also informed me of a way to fix the problem. I had to figure a way around another bug that prevented me from updating the configuration, but my approach worked, and now guests and logged out users of our forum can read the listings of topics and the individual threads and postings themselves!

As you can imagine this is a great thing. Now people won't think this is a closed or dead forum and will be more likely to read and post; search engines can finally index the forum again; Web searchers can find topics on our forums; and the error logging software won't create error listings for every forum page access attempt by guests. I was getting tired of clearing out thousands of error log entries every few weeks. :laugh:

Welcome back, outside world! :)
nz17 (Tuesday, 02 March 2010 03:43:29 +0000) to topic Re: Forum Software Updated
The forum software has been updated from version 2.1.5 to 2.1.6. This is a much smaller and easier change than our previous upgrade. The following improvements were made:

* The Chat is now integrated and ready for intensive testing. (We don't currently use the TalkBoard Forum chat feature, but we could test it out some day...)
* AFS can now handle files larger than two gigabytes with a global quota of 64 petabytes. (Bigger files uploads are now possible. Our custom cap is still set to 1MB/file, 5 files/post.)
* Files in AFS can be set to be shown "inline" when downloading them. This allows for example to display images directly. (This option can be found in your profile's "Account-Settings" section and was improved at my request. :) )
link1986 (Thursday, 04 March 2010 14:20:03 +0000) to topic Re: Forum Software Updated
That might explain why i couldn't view the forum the other day.
nz17 (Friday, 05 March 2010 05:36:38 +0000) to topic Re: Forum Software Updated
Yeah, that had to do with a typo where the programmer accidentally switched an e and an l. I wrote to him about it after fixing it here on our site. ;)
nz17 (Wednesday, 31 March 2010 13:32:35 +0000) to topic Re: Forum Software Updated
Minor update to the forum, just added the Artist Alley link to the top of the page.