Here is a new promotional flyer cooked up for the run-up to the convention. Be sure to get the good word out there about G.A.M. by hanging up these flyers anywhere and everywhere where people who would be interested in an awesome convention will be able to see them.
I'd like for us to have these flyers hanging in every window of every store and home on the main streets of Vernal, Roosevelt, Duchesne, Jensen, Fort Duchesne, Randlett, Altamont, Ballard, Green River, Dinosaur, Rangely, Myton, Sunnyside, Green River, Fruita, Blue Bell, Maeser, Naples, Steamboat Springs, Rock Springs, Lapoint, Bridgeland, and many more!
It's as easy as 1, 2, 3: save, print, and share! Get them out there!
Final 2015 G.A.M. Flyer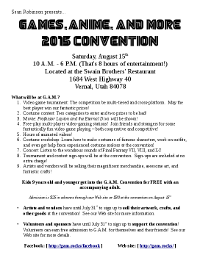 File format: PDF
Size: 55 kibibytes