Are you up for a Smashing good time? I hope so as we are having Super Smash Bros. for Wii U competitions at G.A.M. on March 19th! Free sign-ups for attendees will be at the convention in Naples, Utah.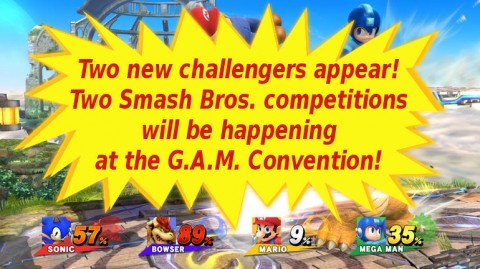 There will be two competitions. The first is going to be a one versus one tournament using the "For Glory" mode which means no stage shifts and no item/pickups to keep things strategic and fair.
The other competition will be a "Figure Player" contest using Amiibo. In this one, players will scan their Amiibo figurines into the game and step back so that their Amiibo can virtually duke it out against one another in a fight to the finish.
Prizes will be furnished for both the tournament and the FP contest. I've heard from a reliable source that a "Franklin badge" from Earthbound will be amongst the prizes included in the prize pack for the first place winner in the tournament. You'd better get practicing!
Say, while you are at it, you should share this page with your friends and post it to your social media accounts. That way we can really ramp up the heat in the competitions by having even more contenders fighting in them!