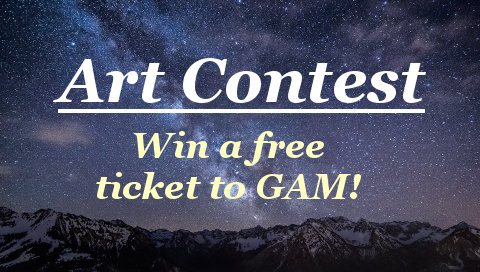 I think a little competition is in order. You could win free admission into the Summer 2016 GAM Convention!
Draw an illustration of your favorite video game character(s), preferably Mega Man character(s), at a social event such as a convention, reunion, party, festival, fair, conference, or exposition.
Submit your illustration as a comment in reply to this Facebook post. Click the little camera icon by the text entry box to select your illustration to upload it there.
Limited to (2) entries per person so that you can submit up to two illustrations.
One (1) winner will be chosen to receive a free ticket to the Mega GAM Con (Summer 2016 GAM Convention).
The due date is June 9th, 2016 (Mega Man / Rockman Day) at 11:59 P.M. Mountain Time.
The winner will be announced within a few days after the due date.
We will contact the winner around that time.
The winner will be chosen based upon the overall appearance of the piece and its conformance with the theme and spirit of the convention and the competition.
The odds of winning depend on the number of entries submitted.
No purchase required.
The convention will be granted full, non-exclusive rights to all entries submitted to the event. Entries might be used for promotional purposes by the convention. (This means the submitters retain the right to use their own artworks however they please, but we also get to use them however we please so that, for example, we can promote the con.)
There are only a few weeks left until the due date of June 9th so let the creativity flow. Get your art happening!